School Projects
Antarctic related lesson plans
I've worked with a number of schools on Antarctic projects. It's something I enjoy doing, as I think most people who go south do. I've been surprised how difficult it is to organise a project with a school. Teachers are very very busy, people working on the ice are busy, and trying to coordinate can be difficult. On this page I'm going to try and collect ideas to make it easier for teachers to come up with projects. If you're a teacher that has an idea and you think I can help, go to my contact page and drop me a line. If I can't help I will pass you to someone that can.
Questions and Answers from Bundeena and Gymea Bay Public Schools - During the 2000 winter I wrote to Bundeena and Gymea Bay Public Schools, and I helped get the Olympics mascot Millie to the South Pole.
I wrote a few emails to Sunbury Primary School after talking to them by phone at one of the exhibitions on Antarctica.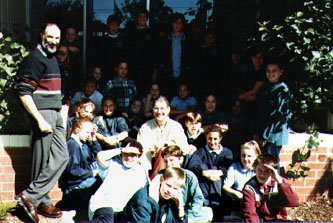 Me visiting Sunbury Primary School